BRADFORD High School KENOSHA WISCONSIN
CLASS OF 1975
CLASS 'OF 75 IN MEMORY
Rick Blaisdell
Rickey Alan Blaisdell | 1957 - 2020 | Obituary
Show Your Sympathy
to the Family
A Celebration of Life
Tuesday, Oct 27, 2020
5:00 PM
Rickey Alan Blaisdell
November 27, 1957 - October 18, 2020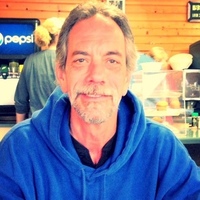 Rickey Alan Blaisdell, 62, of Kenosha, WI, passed away unexpectedly in his home on Sunday, October 18th, 2020.
Rickey was born in Kenosha to Lawrence and June (Strouf) Blaisdell. He grew up with his sister Jolene (Gary) Topel and Kenneth Blaisdell. As a teen, he loved spending his time playing basketball and being in band. In his spare time as an adult he enjoyed watching the Packers on football Sunday, helping his mother June in her garden and spending time with daughters and grandchildren.
Rickey is survived by his mother, June Blaisdell, Sister Jolene (Gary) Topel, daughters Danielle Blaisdell and Courtney (Sam) Jacob and Grandchildren Emma Blaisdell, Kenneth, Liam and Brennan Jacob. He was preceded in passing by his Father, Lawerence Blaisdell and Brother, Kenneth Blaisdell.
The memorial service will be held at Bruch Funeral Home on Tuesday, October 27th, 2020 at 5:00pm. There will be visitation at the same location beginning at 4:00pm. His family will be present to welcome loved ones. Due to public concerns and guidelines with the CDC, we are limited to 50 people in the funeral home, which means you may have to wait outside for a short period of time before entering. For your safety, masks are required and encourage social distancing. We thank you for your cooperation and understanding during these trying times.
To send a flower arrangement or to plant trees in memory of Rickey Alan Blaisdell, please click here to visit our Sympathy Store.