BRADFORD High School KENOSHA WISCONSIN
CLASS OF 1975
CLASS 'OF 75 IN MEMORY
Ben Olbrys
From The Kenosha News.com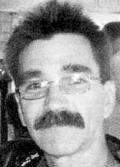 Benjamin B. Olbrys "Lucas"Benjamin B. Olbrys "Lucas"
1956 - 2015
Benjamin B. Olbrys "Lucas," 59, a resident of Kenosha died Monday, March 9, 2015, at Kenosha Medical Center after a long struggle with lung cancer.
Ben was born on Jan. 27, 1956, in Kenosha to Walter and Aurela (Naumowich) Olbrys. He had a strong work ethic and was employed by Power Brace for 30 years as a fork lift driver and doing maintenance. He also worked at Arvato Corporation. Ben loved to fish and to hunt and was happiest when he was outdoors.
Surviving Ben are his two children, Jason Olbrys and Trina (Jason) Wennerholm, and his grand daughter, Neela, all of Kenosha. He is further survived by his brothers, Francis (Susan) Olbrys and Ted (Jill) Olbrys, and by his sister, Theresa (Gary) Struthers.
A celebration of life and a time to visit with family will take place on Sunday, March 15, 2015, at the Fireside Restaurant from 3 p.m. until 6 p.m. In lieu of flowers memorials to the family would be appreciated. - See more at: http://www.legacy.com/obituaries/kenoshanews/obituary.aspx?n=benjamin-olbrys-lucas&pid=174368403#sthash.izsF7ujD.dpuf