BRADFORD High School KENOSHA WISCONSIN
CLASS OF 1975
CLASS 'OF 75 IN MEMORY
Bruce Benhoff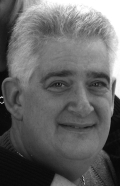 Bruce "Six-Six" Benhoff
June 07, 1956 - November 29, 2013
Service:
A Memorial Service in celebration of Bruce's life will be held on Tuesday, December 3, 2013 at 7:00 p.m. at the Piasecki-Althaus Funeral Home, 3720 39th Avenue. Private inurnment will take place in St. George Cemetery.
Visitation:
A gathering of relatives and friends will be held at the funeral home, 3720 39th Avenue on Tuesday from 4:00 p.m. until the time of the service.
Memorial:
In lieu of flowers, memorials to the family would be appreciated.
Obituary:
It is with great sadness that we announce the passing of Bruce "Six-Six" Benhoff on Friday, November 29, 2013.
Bruce was born in Kenosha on June 7, 1956 to Leander and Corinne (Stec) Benhoff. He attended and graduated from the Kenosha school system. Bruce was a lifelong resident of Kenosha and Northsider.
On October 3, 1980, he married his best friend and soul mate, Jill Yorton. Bruce and Jill had been inseparable ever since they met.
Bruce was a true Northsider in every sense of the word. He worked for MacWhyte Wire Rope, Peter Pirsch, and Chrysler. He was also a fixture for many years working as the king of pizza chefs at the Wisconsin Beer Gardens. Bruce and Louie Cairo, the owner of the Beer Gardens, had that place rocking with their many skits as Jake and Elwood Blues, the Blues Brothers. Bruce also did a great Kate Smith singing God Bless America. With his many jokes, impressions of Rodney Dangerfield, and iconic rendition of Cab Calloway's Minnie the Moocher, you never left Bruce's presence without a smile on your face. He was one of a kind.
Bruce was an avid Cubs and Packer fan. The Cubs were very important to Bruce and Jill and they would fly the "W" flag on the porch after every win. These verses from Steve Goodman's A Dying Cub Fans Last Request tell the tale, "build a fire out of your Louisville slugger bats and let my ashes blow in the prevailing Lake Michigan winds. When my ashes go flying over the left-field wall and I bid the world adieu, I will come to my final resting place out on Waveland Avenue."
Bruce loved life and adored his grandsons. He never missed an opportunity to spend time with them. He enjoyed reading, playing sports and teaching them values of life.
Bruce is survived by his wife, Jill Benhoff of Kenosha; his son, Nathan; his daughter, Nicole; his two grandsons, Joshua and Jacob; his mother, Corinne Benhoff; his two brothers, Ron (Jackie) Benhoff of Ahwatukee, AZ and John (Jennifer) Benhoff of Kenosha; and his two sisters, Lisa (Ray) Moravec, and Amy Benhoff, both of Kenosha.
He was preceded in death by his father, Leander "Ben" Benhoff, his paternal grandparents, Henry and Mary Benhoff; his maternal grandparents, Casmir and Agnes Stec; his nephew, David Moravec; his niece, Katie Moravec; and many favorite uncles and aunts.
- See more at: http://www.piasecki-althaus.com/obituary/view/2650#sthash.1ykvWobn.dpuf