BRADFORD High School KENOSHA WISCONSIN
CLASS OF 1975
CLASS 'OF 75 IN MEMORY
Timothy Zuehlsdorf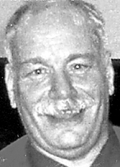 Timothy James Zuehlsdorf, 55, of West Allis, passed away peacefully on Friday, Oct. 12, 2012, at St. Francis Hospital in Milwaukee surrounded by his family and friends.

Born in Kenosha on Sept. 28, 1957, he was the son of Richard and Eileen (McAleer) Zuehlsdorf. He was educated in local schools graduating from Mary D. Bradford High School and the University of Wisconsin-Milwaukee with a Bachelors Degree in Nursing.

On Feb. 10, 1986, he married Barbara Irmischer in Milwaukee.

Tim was employed as a registered nurse for 32 years at various local hospitals and teaching nursing at UW-Milwaukee Campus.

Tim enjoyed cooking, gardening, and was a licensed massage therapist for over 20 years.
The above from Kenoshanews.com