BRADFORD High School KENOSHA WISCONSIN
CLASS OF 1975
CLASS 'OF 75 IN MEMORY
Jerry Ogren
The following is from the KenoshaNews.com obituary column, Sept 10,2013.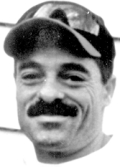 Jerry Dean Ogs Ogren

1957 - 2013

Jerry Dean Ogs Ogren, 56, of Eau Claire, Wis., passed away at his home on Sept. 4, 2013, after a lengthy illness.

Jerry was born on March 16, 1957, to Charles Ogren and Shirley Jakubowski. Jerry attended local Kenosha schools. He was married to Tammy Bambenek on Oct. 31, 2003, in Eau Claire. Jerry owned and operated his carpet business Jerrys Carpet in Eau Claire. Jerry enjoyed motorcross, softball and cooking. He was an avid fisherman and was a big Cubs fan.

Jerry is survived by his wife, Tammy Ogren; father, Charles (Betty) Ogren; sisters, Kathy (Jerry) Peterson, Terry (Neil) Hall, Linda (Gary) Funk, Kelly (Pat) Billingsley; brother, Jeff (Anne) Ogren; he is further survived by three nieces; seven nephews; one great-niece; as well as several cousins.

He was preceded in death by his mother, Shirley (Jakubowski) Ogren on March 8, 1977.

Services were private.
Published online at KenoshaNews.com on September 10, 2013